Our Why and How to distill first hand accounts about the timeline post-Civil War through Reconstruction, to the end of War World 2.
The Buffalo Soldiers's role in CRITICAL RACE THEORY is a critical driver for Dakar Foundation's quest in supporting Anthony Powell, the curator of the worlds largest collection of memorabilia of men also known as Government Ghost. In addition Dakar's will attempt to build an interactive timeline of Black American Milestones and History-makers.
The creation of this tool will provide an evergreen tool and the impetus for a capital campaign to preserve and conserve the legacies of people such as Samuel Waller, the Buffalo Soldier Photographer, 1871-1967.
Critical Race Theory Lesson #18:

The Buffalo Soldiers are perhaps the most revisionist subject in American history. They were recruited in New Orleans just after the end of the Civil War, and were used by the United States government to wage genocide against Natives across… pic.twitter.com/wmAWVQKjUQ

— Scott Huffman for NC 🏴‍☠️ (@HuffmanForNC) July 18, 2021
The story of the Buffalo Soldier is now being portrayed by more popular media, but it hasn't always been treated as important enough to be socialized for public consumption. We hope our next offering , perhaps through ethnic studies will assist in building a more robust repository of assets for the future generation to research and contextualize these men and women's contributions to building this countries from a more diverse point of view.
MOBNation, Men of Bronze wishes to celebrate the Buffalo Soldiers on their designated day and honor their contribution. If this is critical race theory, so be it – that's part of the learning. https://t.co/097uLAvmwd

— Men Of Bronze (@WHOISMOB1) July 29, 2021
Dakar is assembling a group of patriots to study how the timeline of all tribes and cultures such as the Buffalo Soldiers were responsible in building this countries fabric of liberty, freedom and democracy . and it's Dakar's belief that a digital timeline of content and a narrative that will bring all voices to the table to synthesize these immutable facts for future generations to debate.
Gingrich asks what China will think of critical race theory in the 'woke' US military https://t.co/35ouwlFuIH via @Yahoo Buffalo Soldiers, Red Wings, Bloods: Brothers in the Nam, ring a bell? @nutgingrich is either mis-educated,stupid/malicious-complicit?

— DDeon (@_Truedemocracy) July 28, 2021
This Black History Month Dakar will embark on a mission tho share vignettes illuminating factoids about some of the individual and factoids that will bring these stories back to life, and propel the past forward in creating a coalition of the willing to prioritize mr. Anthony Powell's mission before it's too late to properly provide a oral history and track for his work to be fully examined from first hand accounts.
The same people who say "Critical Race Theory shouldn't be taught in schools!" were the parents who signed to opt their kids out of Black History Month.

Yeah. In one of the school districts near me, parents rallied and received the option to "opt out" of Black History Month.

— SneakySquid (@1SneakySquid) July 26, 2021
August 22nd, 1898, Lieutenant Charles Young's inspection report as Professor of Military Science and Tactics at Wilberforce University was given to the Secretary of War.The report states: "Lieutenant Young is very enthusiastic and energetic and has worked very conscientiously for the development of the department so recently established: he enjoys the full confidence and has the active support of the entire faculty and seems eminently qualified from inclination and ability for the position he occupies."Photo: Letter to the Secretary of War, August 22nd, 1898. Courtesy of the National Afro-American Museum and Cultural Center.
View this post on Instagram
View this post on Instagram
'Ethnic Studies For Everyone'
The California Community Colleges system will require students to take an ethnic studies course. The new policy follows legislation that established a similar requirement at the California State University system last year.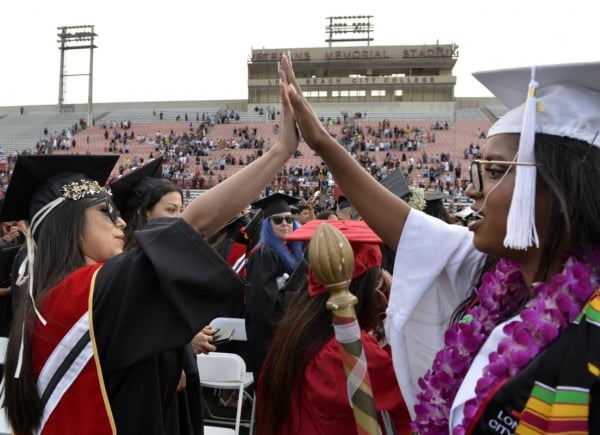 ETHNIC STUDIES COMING TO A CLASSROOM NEAR YOU IN 2022
Students pursuing an associate degree in California will be required to take an ethnic studies course before they can graduate, according to a recent decision by the California Community Colleges Board of Governors.
The new policy requires students to take a three-unit semester or four-unit quarter class in African American studies, Asian American studies, Latinx studies or Native American studies. The course will count toward students' general education requirements.
Join us on Sept. 16 at 4pm for this @race_policy event on Housing Loss and Discrimination! Co-sponsored by American Ethnic Studies and the Slavery, Race, and Memory Project. Register here: https://t.co/yepRHzRXLz pic.twitter.com/upzlTcPkUw

— WFU Politics & International Affairs (@wfupol) September 2, 2021
"As the largest and most diverse system of higher education in the country, we have an opportunity to break down barriers to equity," Board of Governors president Pamela Haynes said July 13 in a press release announcing the board's decision. "By building a faculty and staff that look like the students and communities we serve and by putting diversity, equity and inclusion … and anti-racism at the heart of our work, we can help create a system that truly works for all our students."
Most Popular
A task force that includes students, ethnic studies faculty and members of the community college system's Academic Senate, led by the chancellor's office, will decide what kinds of courses will qualify for the requirement and the timeline for it to go into effect.
The requirement could be implemented as early as fall 2022 but is more likely to start in fall 2023, Aisha Lowe, vice chancellor of educational services and support, said during the Board of Governors meeting.
Carlos Guerrero, a professor of Chicano studies at Los Angeles City College and co-chair of the ethnic studies council for the community college system, said the decision came after a "faculty-driven process" supported by students. He said ethnic studies courses help students understand the "multitude" of experiences within American society and ask, "What makes things the way they are?"
"I think it's important to understand that the American experience is not a singularity, that the American experience is diverse," said Guerrero. "We want to be able to kind of move beyond the stereotypes that exist, and I think it helps all students understand the complexity of our experience."
Belinda Lum, a professor of sociology at Sacramento City College and a member of the ethnic studies council, said she saw the value of ethnic studies courses firsthand when she was a student.
CSU WILL JOIN THE MOVEMENT TO ADD ETHNIC STUDIES IN 2022
"I would say that as someone who is a professor because of ethnic studies, because I saw myself in the books of an Asian American studies class, that I know the power that this curriculum has," she said during the board meeting.
The move comes after California governor Gavin Newsom signed legislation establishing an ethnic studies course requirement for the California State University system last year after a hard-fought battle by ethnic studies faculty members.
Theresa Montaño, a professor of Chicano studies at Cal State Northridge and a member of the CSU council for ethnic studies, said the advocacy by faculty members and the passage of the legislation had a "ripple effect" and she was "thrilled" to hear the community college system was following the lead of the state university system.
"We see the fight for ethnic studies and the fight for an ethnic studies requirement for California students as a part of a movement for ethnic studies," she said. "We never saw AB1460 as a stand-alone issue."
Related Stories
One goal of the California Community Colleges task force is to offer ethnic studies courses that align with the CSU requirement so students can transfer to CSU campuses with the requirement already fulfilled.
Guerrero said community colleges were already in the process of trying to get ethnic studies courses approved to meet CSU's requirement, but many courses have been rejected by CSU. He said some faculty members must reshape their course curricula to meet three out of five "core competencies" outlined for CSU ethnic studies courses and that the process will take time.
Even though students will be able to meet their ethnic studies requirement before enrolling at CSU institutions, Montaño does not believe the move will decrease demand for ethnic studies within the system.
Students still have the option to take their ethnic studies course in their junior or senior year, and "once students take their first ethnic studies course, they're going to want to take ethnic studies again," she said. "So we don't look at this as a competition. We look at this as a victory for ethnic studies."
Meanwhile, Guerrero expects to see ethnic studies disciplines grow in the California Community Colleges system as student demand rises in response to the requirement. He said some college leaders are concerned about not having enough faculty members with academic backgrounds in ethnic studies, and department chairs are already searching for candidates.
"We're going to have to hire a lot of faculty in the next two years," he said. "What a lot of colleges are worried about is trying to find the right hires. It's going to take a while."
He noted that there are also concerns that colleges lack the funding for hiring additional faculty members, but he expressed confidence the chancellor's office would recognize the importance of funding these efforts.
"Like anything else that happens, the funding will be found," he said. "The money is there when the will is there."
Montaño, the Chicano studies professor at Cal State Northridge, believes ethnic studies requirements are going to become more commonplace at higher education institutions across the country, especially after protests following the killing of George Floyd last summer and the national response to the shooting of six Asian women in Atlanta earlier this year.
"We've always said ethnic studies is inextricably linked to the struggles of BIPOC communities, the everyday experiences of people of color in the United States," she said. "When you have an increase in racial justice community organizing, you have an increased interest in ethnic studies because ethnic studies is dependent on those movements."