12 Innovative Social Media Tips Mentees Can Better Connect with  Mentors (and Separate Yourself from the Competition)
In what new ways are you using social media to reach your audience that sets you apart from larger competitors?
The following answers are provided by the Young Entrepreneur Council (YEC), an invite-only organization comprised of the world's most promising young entrepreneurs. In partnership with Citi, YEC recently launched StartupCollective, a free virtual mentorship program that helps millions of entrepreneurs start and grow businesses.
A. Reacting Quickly

We are more nimble because our social media experts can react quickly without going through many layers of approval. Whether it's a quick ALS Ice Bucket Challenge that we post while the genre is still hot, or a great property we just listed that we want to showcase, we can be in the moment, at that very moment. - Kuba Jewgieniew,Realty ONE Group
A. Engaging Customers Across All Platforms

We engage heavily with our customers on all major social platforms. We believe responding to questions and acknowledging great comments creates a true relationship between our brand and customers. It also allows the customer to see the personality of our company, which is extremely important to us. - Mark Samuel,Fitmark
A. Taking Advantage of Other Resources
We create a "Top 5″ list every month for user-generated content campaigns. This includes campaigns that weren't done by our company. It's important to think of your vertical as a community. And as a member of the community, it's your job to provide as much value as you can. Often, you are able to do that with your product or service. Other times, it's acting as an expert curator. -Adam Stillman, SparkReel
A. Offering Live Coaching Sessions

We often get asked questions from our audience on Twitter and LinkedIn. When we notice an interesting question, we invite them to a free webinar coaching session, where they have the chance to ask questions and practice directly with me. There's no veiled sales pitch or pseudo-consultation, just pure value. Large competitors don't offer that kind of live access to founders and executives. - Steli Efti, Close.io
A. Connecting With Interesting People in Related Spaces


Following people on Twitter really gets their attention. We follow people in big data, biology and health to cover all of our bases. -Jessica Richman, UBiome
A. Focusing on Personalized Interactions With Customers

Social is a great tool for us to cultivate relationships with our customers and prospects. Instead of using social media to send out general posts to the masses, we constantly incorporate creative ways to communicate with our customers on a one-on-one basis. This simple approach is more sincere and impactful. It lets them know we are thinking about them and that they are important to us. - Brock Stechman, DivvyHQ
A. Helping Others Through Twitter Search

For my site WPBeginner, I use Twitter's search feature to monitor the hashtag WordPress and answer any questions that come up. This helps in building great user engagement, and I've built quite a following by offering to help users. - Syed Balkhi, OptinMonster
A. Making Sure There's Engaging Content Behind Your Links

Sometimes companies just throw up posts on social media sites for the sake of it, without being intentional about what they're linking to. We make sure that we carefully curate the external links that we're sharing and spend time crafting engaging content, such as blog posts, that aren't thinly disguised sales pitches. That way we're offering value to anyone who engages us via social media. - Grant Gordon, Solomon Consulting Group
A. Leveraging Partnerships

Seeing that most social media channels were saturated, we pursued a partnership with Venmo. Now when users cash out, they can choose to donate a portion of their money to provide life-changing medical treatment for one person. When they do that, a message is automatically shared to their feed encouraging others to do the same. - Mark Arnoldy, Possible
A. Using Direct Messaging

We're using the old ways in our social media approach to set ourselves apart. We leverage Twitter as a lead generation tool to take connections offline. We frequently DM (Direct Message) industry contacts to get their email to set up calls or coffee dates. While we understand the power of social media, we believe the most meaningful connections happen in person, and we incorporate this into our strategy. - Carrie Rich, The Global Good Fund
A. Spreading Knowledge

Larger competitors tend to promote their product or service more often than not. I, on the other hand, like to spread knowledge for people to learn from instead. In many cases, I end up with people coming to me looking for business as the knowledge has asserted expertise in the field. - Stanley Meytin, True Film Production
A. Hosting Twitter Chats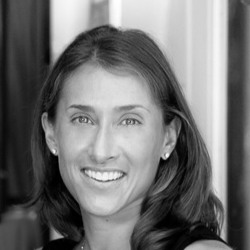 Hosting and being involved in Twitter chats is a great way to show personality, find out what people are looking for and see how your business stacks up to the competition. - Brooke Bergman, Allied Business Network Inc.
Follow Young Entrepreneur Council on Twitter:www.twitter.com/YEC